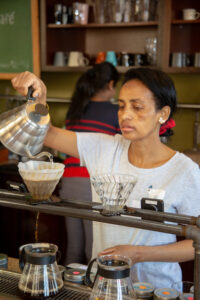 ZFF is a proud partner of 1951 Coffee Company (1951 Coffee) which provides job training and employment to refugees while educating the surrounding community about refugee issues. Having spent several years working with refugees, 1951 Coffee founders, Rachel Taber and Doug Hewitt, were inspired by the potential of refugees and the possibilities that awaited them. Yet, they were frustrated by the ongoing unmet needs refugees encountered as they looked for work. Rachel and Doug wanted to offer refugees a program that moved them away from "4D jobs" – jobs that were dull, dirty, difficult and dead-end. By focusing on the coffee industry, 1951 Coffee provides social, linguistic, and cultural integration opportunities for refugees while at the same time transforming the community's perception of refugees.
The entry point to 1951 Coffee is the barista training program that annually trains 65 refugees, asylees, and special immigrant visa (SIV) holders in the Bay Area. This is an intensive, two-week program that includes the hard and soft skills needed to work in the coffee industry. The program has a seventy-five percent job placement rate and partnerships with key employers in the industry including Blue Bottle Coffee, Starbucks, Ritual Coffee, and several other specialty cafes across the Bay Area. The average hourly wage earned by 1951 Coffee alums is $15.00, plus an additional $4.00 an hour in tips. This combined hourly average of $19.00 is remarkable and helps refugees support their families.
In addition to the barista training program, 1951 Coffee operates brick and mortar cafes that are run entirely by refugees. The cafes are places to foster authentic, dignified interactions between refugee and nonrefugee community members. With ease, Americans can interact with a real person who came through the refugee program in part of their daily, normal routine. This interaction offers opportunities for exposure and connection between Americans and refugees. There are currently three cafes operated by 1951 Coffee in the Bay Area.
1951 Coffee's outcomes are unmatched by other early employment programs in the region. Of the 150 refugees 1951 has worked with since 2015, 30 are employed through 1951 Coffee at different cafes and an additional 85 graduates are employed with Bay Area coffee companies. On a deeper level, 1951's work is creating a sustainable change within the coffee industry and for refugees wanting careers that provide for themselves, their families, and their futures.