Since 1997, Community Works West (CWW) has strived to interrupt and heal the far-reaching impacts of incarceration and violence through youth-led advocacy, innovative programs in jails and prisons, restorative justice practices, and art. CWW provided the first restorative justice program in a county jail (San Francisco) and the first restorative justice diversion program for youth offenders in Alameda County. CWW also has been a leader in efforts to realize the rights of children with incarcerated parents and minimize the impact of incarceration on children and families. Focused on the Bay Area, CWW recently expanded to two California state prisons.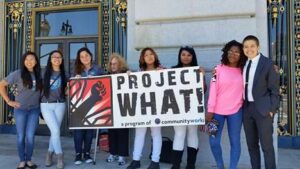 CWW currently operates the following core programs:
Additionally, CWW's staff actively participates in the San Francisco Children of Incarcerated Parents Partnership, the Alameda County Children of Incarcerated Parents Partnership, and various other collaborative entities.
CWW's strong connections with various public agencies, as well as its unique and effective programming, has led to sharp growth in demand and funding, more than doubling its size over the past few years. However, most of the funding it receives is for direct services, increasingly straining its administrative infrastructure.
Recognizing CWW's leadership in the field, contribution to the community, and alignment with the foundation's values, ZFF awarded a legacy grant to help support a new development director as a first step toward strengthening CWW's administrative capacity to keep pace with its expanding programs.